Blogs are an underused asset for most eCommerce sites
Webshops or eCommerce sites are often in doubt about starting or continuing their blog. Because why should they? They don't make any direct money out of it. Instead, their main focus is to make money by selling products.
But what if I told you that webshops or eCommerce sites can actually make more money by having a useful blog?
In this article, I will explain to you when webshops should consider starting a blog and how you can create content that will have a positive impact on your sales. And as a bonus, I will also include some blog formats that you can use to start your profitable blog.
Table of contents
Should I add a blog to my eCommerce website?
How to create perfect blog posts for webshops
3 Tips & tricks to improve your blogging
Main Takeaways
Should I add a blog to my eCommerce website?
The short answer: Yes you should!
But why?
Webshops and eCommerce sites are all about product categories and product pages. And while this may be enough for some of them, others can benefit tremendously from adding blogs.
Major eCommerce sites such as Bol.com or Amazon don't use blogs to enhance their business. They are so big that they don't need to do that. In eCommerce, the volume of pages, therefore content, is fundamental for Google to understand if your webshop is an expert on the matter. And in the end, it is all about being known as "the expert", to Google and to (potential) customers.
The more useful content your webshop has, the more "expert" you would look in the eyes of Google and (potential) customers. For smaller eCommerce businesses starting or continuing a blog can make sense for multiple reasons.
7 Reasons to blog as an eCommerce site
To become the expert / authoritative site
To increase the number of conversions
To increase awareness for your webshop
To increase the number of indexed pages
To add additional keywords to your site
To engage with (potential) customers
To increase retention
Let's dive into this list to understand how all these reasons are connected to each other.
Increase awareness with more pages and keywords
With blog posts, webshops are able to add additional keywords to their website. This can create more awareness and gives users the ability to enter the webshop via different keywords. However, when you offer a lot of products and have a lot of pages, this becomes less necessary. Because then you will have a lot of different keywords already.
Increase conversions by becoming the expert
Blog posts can also have the power to increase conversions for webshops. Users look for products online during different parts of the buying phase. With product pages, you are mainly targeting users that want to buy a product immediately.
However, not everyone wants to directly buy a product, most users look first for alternatives. They will orientate themselves and look for similar products online and get information from the expert on the subject matter.
With specific types of blogs that position you as the expert, you will be able to attract customers to your site that are still in the orientation phase. From there on, you can guide them to your product pages and increase the number of conversions.
Consider if these reasons are enough for you to start or continue
Whether or not to start or continue blogging ultimately depends on many factors. Each eCommerce business should carefully consider whether crafting blogs is worth the effort. If you think your webshop could benefit from a blog, you should read the next section. To find out how you can create the perfect blog posts.
How to create perfect blog posts for webshops
As mentioned before, blogging is only beneficial for eCommerce sites that want to increase their awareness or conversions. In this section, I will explain everything you should take into account when you are working on your eCommerce blog.
Have a well-structured content creation process
Creating content takes time. Long gone are the days when you could stuff a blog post with keywords and expect it to rank highly in the search engines. Nowadays, there is a lot of competition on the web. And search engines prioritize content that is most valuable to users.
In order to create quality blog posts, you should have a content creation process that includes multiple steps. It could look like something such as this:
A well-structured blog creation process
Ideating and researching possible topics
Drafting and writing the actual blog post
Revising your content and making it visually appealing
Implementing your articles into your CMS (Content Management system)
Optimizing your content for search engines (SEO)
Monitoring, maintaining and improving existing blog posts
Having a proper content creation process smooths the writing process. Also, it ensures that it gives you the best opportunity to create content that helps you gain awareness or improves your conversions.
Create content that targets the right people
What you should write about is specific and unique for every business. However, in every case, blogs should be targeted at people that want to find information about the products you sell, but aren't going to buy just yet. To illustrate with a simple sales funnel, you should aim to have your blogs target people in the awareness and consideration phase.
Awareness and consideration phase
The awareness phase is the first phase of the buying process. In this phase potential customers become aware that they want to buy something and do a broad search for possible products. In the consideration phase, people limit their search to a certain amount of products and then compare which one they ultimately want. In both of these phases, people are not yet ready to buy your product. However, they are looking for products that will satisfy their needs.
The main aim of your blogs is to give potential customers in phases more information. On the one hand, to position yourself as a seller they should consider when they are ready to make a purchase. And on the other hand, as "the expert" on the products you are selling.
Increase your returning customers
Yes, returning customers can be a possible byproduct of your blogging efforts. Not only can your blog help to acquire new customers, but it can also help you to retain existing ones. By positioning yourself as "the expert" people will be more likely to return for new purchases or advice. This will happen when they are satisfied with their purchase and when they feel you are the best when it comes to your product category.
But what do you need to keep in mind when writing blogs for users in the consideration, awareness, and retention phase?
Create blogs that are related to the products you sell
When a sports apparel webshop is blogging about Christmas decorations, users will be confused. When users find this webshop because of the blog about Christmas decorations, they are expecting that everything is about that topic. And definitely not about something unrelated to sports apparel. Therefore, you should limit yourself to only blogs on things that are related to the products you are selling.
This does not mean that you only write about a certain topic, but that the focus of the content is to help your potential customers. Do you sell mountain shoes? Then your visitors might want to know the best clothing and accessories if they go hiking. A nice title for such a post could be "Best clothing for hikers". There it will be easy to promote your products and help your users at the same time.
The right content for the right stage (of your funnel)
You should have blogs that satisfy the needs of users that are still in the awareness and consideration phase of the buying process. In this stage, they are trying to understand what product to buy specifically and what they exactly want or need. In short, they want information.
There are different types of blog posts to target these people. Let's have some example blog formats for an imaginary sports apparel webshop.
The best type of blogs for eCommerce sites –  to increase awareness and conversions

Type of blog
Potential blog title
The phase of the funnel

Comparison blog

The differences between Nike and Adidas sports apparel? 

Consideration 

Buying guide

What to look for when buying sports apparel for football/basketball/hockey?

Awareness/consideration 

List article

Most popular sport apparel brands in 2022

Awareness/retention

How-to article

How to run faster? (-> including a section about buying better running shoes)

Awareness/retention

Trend articles

The latest sport apparel trends for this fall

Awareness/retention
All these blog posts target users that search for specific information needs. And if done well, these blogs will give users the information they need. This will ultimately lead to more awareness and potentially more conversions.
Avoid keyword cannibalization between posts and products
Keyword cannibalization happens when multiple different pages of your webshop are ranking for the same keyword. This results in Google not knowing what page of your webshop to show users for a certain query. When Google doesn't know what page to show it creates confusion, which makes ALL your pages rank lower for that keyword.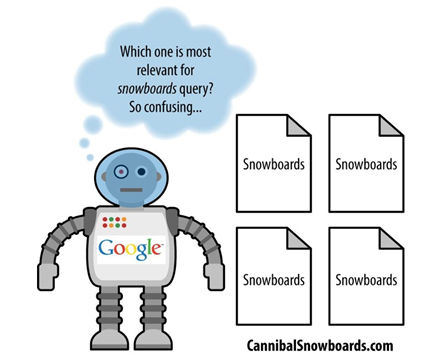 I have seen this issue in eCommerce blogs too often. Which is that blog pages are stealing views from the related product page by having higher rankings for certain keywords. This is not right.
For keywords with a purchase intent (such as "buy x"), you want your product pages to rank the highest. Not your blog page. Otherwise, users are more likely to find your blog page than your product page. And you don't want that as a webshop that is trying to sell products.
What is the solution to this problem? First, redistribute authority through internal linking of the product and blog page. Second, add more content to the product (or category) page to increase the number of relevant keywords.
3 Tips & tricks to improve your blogging
Making blogs can become very time-consuming and costly. Especially if you haven't done it before or if you don't like writing. Luckily there are a few tricks and tools to improve your blogging processes.
#1 Outsource the blog creation process (

Hire

Phanum

, for example!)
If you don't want to write the blogs yourself, you can also outsource it. There are multiple platforms and ways to find freelance blog writers to help create great content.
Phanum can help you create content that will increase your webshops awareness and conversions. We do this by first identifying the right blog posts to craft and then creating them for you. So you don't have to worry about it and you can focus on the rest.
#2 Use SEO tools to find what to write about
When you start writing blog posts you should definitely make use of SEO tools. Tools such as SERanking Ahrefs or AnswerThePublic will help you find the right best topics to write about.
#3 Use AI writers to prevent writer's block
AI tools such as Jasper can now help you write basic content easily, without a lot of effort. These tools use AI to generate entire blog posts from little input. Sometimes you will only need 10 words as input. However, the content it generates is not flawless, and should always be checked afterward
Main Takeaways
I hope that this blog will have given you some useful information on eCommerce blogs. The main things you should remember are:
Blogs will help webshops and eCommerce sites to increase awareness and conversions. Yet, if it is worth the time investment still depends on the objectives and obstacles of each individual business.
Blogs should always target users that want to find information on the products you offer, and who are not ready to buy (yet).
You should use all the tools, tips, and tricks available to optimize your content creation process. Because creating GOOD content is hard.
If you found this article interesting you should consider our blog post on auditing your eCommerce site to achieve higher rankings. Or our blog post on building a successful marketing team as an eCommerce business.
If you have made it this far through the blog…
Chances are that you are seriously looking to improve your SEO game. That's great we are here for it!
Book a meeting with us, let's talk SEO!
Or learn more about your future SEO Strategist: Jairo Guerrero.